www.lakewoodjuices.com
Full Catalogue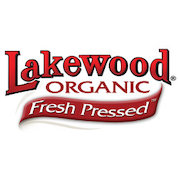 Since 1935, Lakewood has produced a diverse line of pure organic and premium fruit juice products using the finest ingredients. Our mission is to deliver top quality fruit products that are manufactured under guidelines of integrity and with respect to our environment, our customers and our fellow employees.
Our juices are a delicious natural source of anti-oxidants, phytochemical nutrients, dietary fibre, vitamins and minerals. Lakewood takes pride in producing its line of fresh-pressed, organic juices in Florida, with no additives or artificial ingredients.
Why we love it:
You must try the Organic Cranberry Juice. The cranberry juice is an excellent source of anti-oxidants and vitamin C and E. No additives, concentrates or artificial ingredients of any kind have been added. This makes a great base for a Christmas cocktail!