www.realgoodfood.com.au
Full Catalogue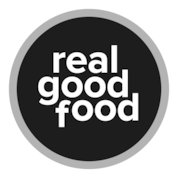 Real Good Food
is built on the philosophy that when we consume organic produce we are investing in a more holistic view of life. At
Real Good Food,
ingredients are sourced from around the globe and are minimally processed in order to preserve original flavour, nutrition and valuable oils.
Real Good Food
remains committed to the philosophy of working with organic wholefoods and using ingredients that contain essential nutrients and flavour. Their range includes: wholegrain cereals, porridge, seed mixes, snack packs and baby cereals.
Why we love Real Good Food
Real Good Food
are dedicated to protecting the nutritional value and integrity of their ingredients. All their products are of the highest quality and completely GMO free.
You must try
The Organic Berry Bircher Muesli, a unique topping that combines the crunch and flavour of toasted nuts and seeds with the extraordinary health benefits of raw linseed and antioxidant-rich super berries!