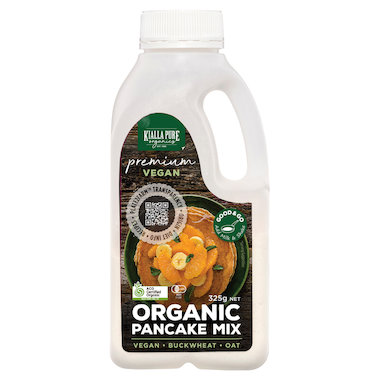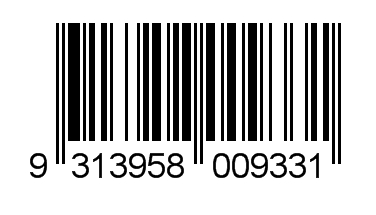 ---
Product Attributes
---
Ingredients
Organic Unbleached Plain Flour, Organic Sugar, Organic Buckwheat Flour, Organic Coconut Milk Powder, Wheat Protein Isolate, Salt, Raising Agents (500, 341), Organic Sunflower Oil, Natural Vanilla Flavour (0.2%). Contains gluten and buckwheat. May be present: egg, milk and soy.
---
Pricing
RRP (inc GST)
$ 6.98
GST
(GST Free)
Kialla
Pancake Mix Vegan Vanilla Organic 325g
---
Description
Kialla -We Only Do Organic
A convenient Shaker Bottle blend of Kialla Unbleached Plain Flour, Buckwheat Flour, and other premium ingredients to make delicious soft textured vegan pancakes with a coconut-y flavour. Contains no preservatives or additives.
Everyone loves pancakes! Kialla Pure Foods have produced this convenient easy-to-use pancake shaker bottle to provide you with a simple way to make fresh organic pancakes at home. Turn the container upside down and tap the lid to loosen the mix, then just add your favourite dairy-free milk alternative and shake well for about a minute.
And it doesn't stop there – this versatile mix can even be used to create many things including cakes.

---
Features
Packed in Australia and Certified GMO free

At Kialla, we only do organics so we're 100% committed to using organic production and processing methods. We support and encourage organic farmers and environmental sustainability and provide our clients with the widest range of high quality organic cereal grains, while also ensuring consistent and reliable supplies, helps us strive to continually improve. Our commitment to organics, to quality and integrity in the food chain, and to reliability and consistency in our products. Kialla Pure Foods declares egg, soy, buckwheat, gluten and milk as allergens on site. This does not mean that each allergen is present in every product. We segregate allergenic product at all times and some allergens may only apply to specific production lines. As best practice of allergen management, Kialla Pure Foods conducts VITAL assessments to ensure the correct "may be present" statements apply.
---
Benefits
The grains used in this mix add dietary fibre and wholesome nutrients to your pancakes. Certified organic, it is free of GMO and chemicals.
---
Quantity & Size
Quantity

(Per Carton)

6
Size
325g
Product Details
SKU
488470
Barcode Number
9313958009331