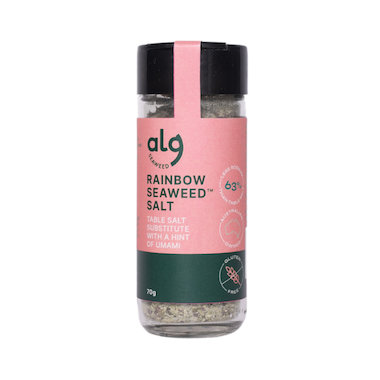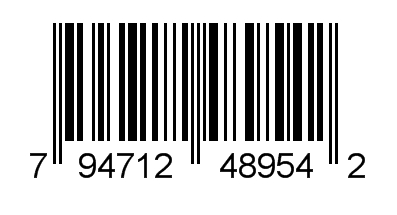 ---
Product Attributes
---
Ingredients
Sodium reduced salt (potassium chloride, sodium chloride, thaumatin) (80%), Rainbow SeaweedTM [*sea lettuce (ulva rigida), Tasmanian wakame (undaria pinnatifida), *Atlantic nori (porphyra dioica), *dulse (palmaria palmata), *winged kelp (alaria esculenta)] (20%). MAY CONTAIN TRACES OF SHELLFISH. *certified organic.
---
Pricing
RRP (inc GST)
$ 9.95
GST
(GST Free)
Alg Seaweed
Salt Rainbow Seaweed 70g
---
Description
Rainbow Seaweed Salt is a pleasant alternative to regular table salt. Make it your new go-to salt on the dining table.
---
Features
100% natural Vegan friendly 63% less sodium than regular table salt No preservatives or additives Healthy (vetted by a dietitian) Delicious umami flavour Made in Australia
---
Benefits
Seaweed Salt for Natural Iodine Use Rainbow Seaweed™ Salt instead of regular salt to get more iodine into your diet. Some table salts are fortified with iodine. But most people opt for 'natural' salt which is not usually iodised. Lower Sodium Seaweed is a great salt substitute. Our innovative Rainbow Seaweed Salt has 63% less sodium compared to regular table salt with no compromise on flavour. Next time when friends come over, they will ask you what it is and you can tell them all about it. They'll be sure to want some too! Umami boost Plain salt lacks that extra bit of OOMPH; that deliciousness, that taste that makes you want more. You only need a sprinkle of Rainbow Seaweed Salt for a bit hit of umami a.k.a the fifth taste. Add more OOMPH to your lunch or dinner with seaweed salt.
---
Quantity & Size
Quantity

(Per Carton)

6
Size
70g
Product Details
SKU
488858
Barcode Number
794712489542