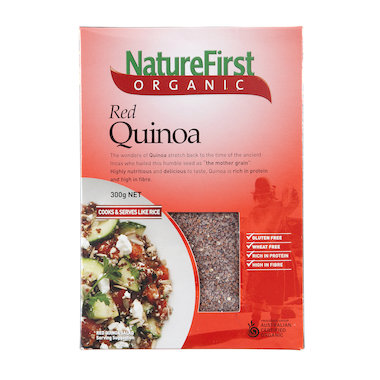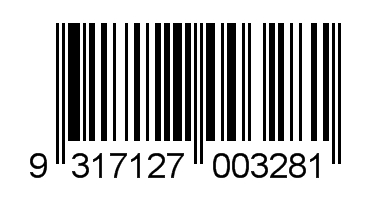 ---
Product Attributes
---
Ingredients
---
Pricing
RRP (inc GST)
$ 5.19
GST
(GST Free)
Nature First
Quinoa Grain Red Organic (Box) 300g
---
Description
Pronounced 'keen-wah', this amazing 'ancient grain' is naturally gluten free and protein rich. Quinoa is actually a seed not a true 'cereal' grain, nor a grass like rice, so quinoa is grain free. Being a seed it is lower in carbs. Quinoa is from a species of goosefoot, in the Chenopodium family and is closely related to other chenopod's such as beets, spinach, and tumbleweeds. The name is derived from the Spanish spelling of the Quechua name, kinwa. Nature First red quinoa has a natural rouge hue and multi-coloured look when cooked and it's white tails emerge.
---
Features
Nature First Organic Quinoa Flakes are sourced from South America and packed in Australia.
---
Benefits
Quinoa has twice the protein content of rice or barley, and is also a very good source of calcium, magnesium and manganese. It contributes useful levels of several B vitamins, vitamin E and dietary fibre. Cooked quinoa seeds become fluffy and creamy, yet maintains a slight crunch. It has a delicate and subtly nutty flavour, versatile for breakfast (as a cereal), lunch (as a salad) or dinner (as a side). Quinoa is among the least allergenic of all the 'grains', making it a fantastic wheat-free choice. Quinoa has an excellent amino acid profile, containing all nine essential amino acids - making it a complete-protein source and an excellent choice for plant based diets, vegan and vegetarian meals.
---
Quantity & Size
Quantity

(Per Carton)

6
Size
300g
Product Details
SKU
7003281
Barcode Number
9317127003281