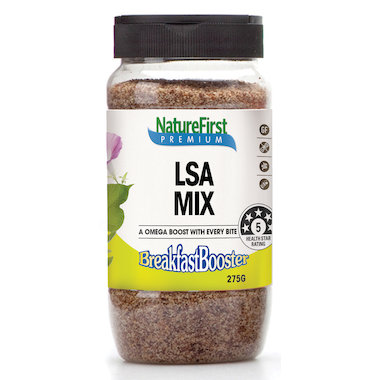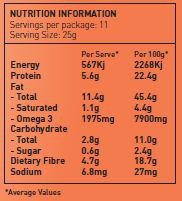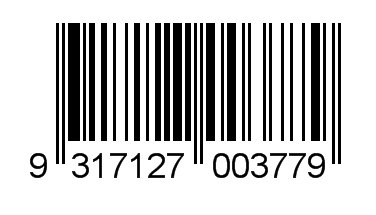 ---
Product Attributes
---
Ingredients
Ground linseed, ground sunflower kernels, blanched almond meal.
---
Pricing
RRP (inc GST)
$ 7.49
GST
(GST Free)
Nature First
Breakfast Booster LSA Mix EA
---
Description
Nature First LSA Breakfast Booster is a delicious blend of the finest quality ground linseed (flax seeds), sunflower kernels and blanched almonds. LSA stands for Linseed, Sunflower and Almond and was originally invented by Aussie doctor Sandra Cabot as part of a liver cleansing diet. It was intended as a nourishing food to compliment a plant based, cleansing or raw-ish diet. LSA offers you a healthy source of fat in the form of omega, 3 and 6, it is packed with fibre and is gently cleansing.
---
Features
Nature First LSA Breakfast Booster is made in Australia from local and imported ingredients and comes in a 275g jar.
---
Benefits
Nature First LSA Mix contains all the benefits of linseed, almonds and sunflower seeds, including high amounts of omega 3, dietary fibre and plant based protein. The Soluble fibre in linseeds has benefits for cholesterol and blood sugar balance as well as cholesterol-lowering properties while the ALA (Alpha linoleic acid) found in linseeds offers anti-inflammatory support. Almonds may help lower cholesterol levels and reduce the glycaemic impact (GI) of carbohydrate-rich foods. Sunflower seeds are rich in the B complex vitamins, which are essential for a healthy nervous system, and are a good source of phosphorus, magnesium, iron, calcium, potassium, protein and vitamin E.
---
Quantity & Size
Quantity

(Per Carton)

6
Size
EA
Product Details
SKU
411662
Barcode Number
9317127003779