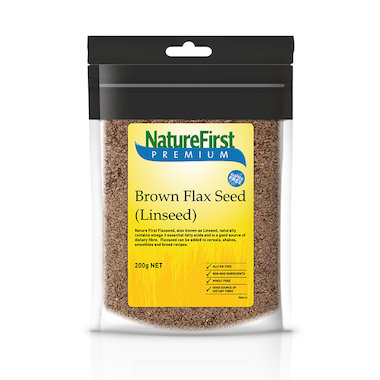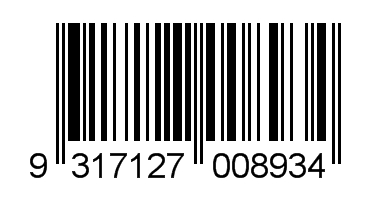 ---
Product Attributes
---
Ingredients
---
Pricing
RRP (inc GST)
$ 4.19
GST
(GST Free)
Nature First
Linseed (Flaxseed) Brown 300g
---
Description
Linseed (Linum usitatissimum) is also known as flax or flaxseed. The whole dark brown linseeds are a rich source of dietary fibre and have a high oil content. The good fats in linseed consists of approximately 69% polyunsaturated and 21% mono-unsaturated fatty acids. They have no cholesterol and are easily stored for long periods of time with their nutritional value intact. These small brown nutty seeds have long been a popular health food and are celebrated for their use in cereals and granola, breads and baking but also as a vegan egg substitute and gluten free binder. Linseeds have a mild nutty taste and satisfying crunch.
---
Features
Nature First Linseed is packed in Australia from local ingredients. It comes in a 300g re-sealable oxygen barrier bag to preserve freshness.
---
Benefits
With 2.5g of Alpha-Linolenic Acid (an Omega 3 fatty acid), per tablespoon, linseed provides your entire daily recommended ALA intake. Linseeds are significantly higher in polyphenol antioxidants than fruits like blueberries or vegetables like olives. They are also the number one source of lignans, which provide fibre-like benefits, and also antioxidant protection due to their structure as polyphenols. Flax is full of fibre, but it specifically contains high levels of mucilage gum—a gel-forming fibre that is water-soluble. This fibre moves through your gastrointestinal tract undigested and takes anything it binds to with it, effectively cleaning your insides and keeping you regular. While it does this it also helps keep you feeling fuller for longer and increases nutrient absorption by keeping food in your large intestine for longer.
---
Quantity & Size
Quantity

(Per Carton)

6
Size
300g
Product Details
SKU
469048
Barcode Number
9317127008934