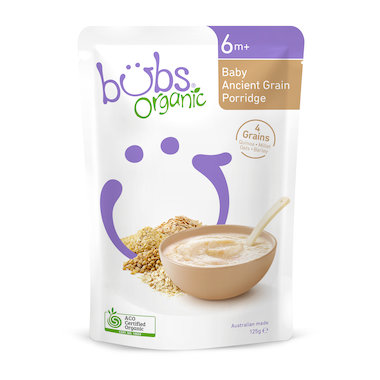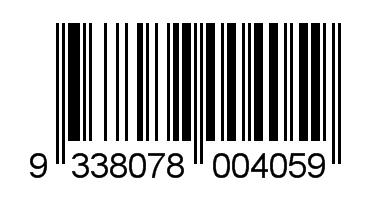 ---
Product Attributes
---
Ingredients
Wholegrain oat flour 19%, rice flour 29%, wholegrain barley flour 15%, wholegrain millet flour 4%, wholegrain quinoa flour 2%, vitamins & minerals (vitamin C, niacin B3, thiamin B1, iron, antioxidant)
All ingreadients are organic

Allergen Advice: Contains Gluten (from Oats and Barley). Produced on equipment that also manufactures products with Soy and Milk.
---
Pricing
RRP (inc GST)
$ 4.49
GST
(GST Free)
Organic Bubs
Baby Ancient Grain Porridge 125g
---
Description
Creating new generations of happy, healthy bubs
5 Grain Cereal. Suitable from 6+ Months
We've made some minor changes to the recipe of our Ancient Grain Porridge due to the current drought affecting Australia. We pride ourselves on using local organic growers where possible, however, with the current drought we are no longer able to source Australian organic oats. We have carefully reviewed available organic growers and have selected one in Canada who meets our high-quality standards. We have also made a slight recipe change by adding rice flour to improve the overall texture and flavour.
Power up your bub's day with our nutritious Baby Ancient Grain Porridge. Made in Australia from certified organic ancient grains, our porridge is enriched with essential nutrients to nourish your little one from the inside out. Our 5-grain power blend of oats, rice, barley, millet and quinoa, is perfect for bubs 6 months and older. Each pouch makes 12 delicious bowls with easy preparation.
Together, we will help grow the next generation of joyful, happy & healthy children. We want to help parents provide the very best nutrition, so that they become Generation Joy.
---
Features
· Australian Made
· Certified organic baby food
· Free from artificial colours, flavours & preservatives
· GMO free
· Nutrition integrity & safety guaranteed
· Food range suitable from 4 months

Not recommended for infants under 6 months. Do not use this product if the pouch appears unusually inflated with air. Keep cap out of reach of small children.
---
Benefits
With a range of superfoods for healthy babies including quinoa, chia and flaxseed in a ready-to-go BPA free pouch with large safety cap.

We pride ourselves on setting up a lifetime of good eating habits and providing your little one with the very best start in life. Our recipes are developed by nutritionists and chefs to ensure each Bubs product supports the nutritional requirements of your growing baby.

With no hidden nasties, we carefully select perfect combinations of ingredients for bubs starting out on their food adventure. We believe in wholesome and healthy food, this is 'clean' food from a trusted Australian brand. Bubs organic premium baby meals are bursting with certified organic ingredients to nourish your little one. No nasties. No GMOs. No artificial flavours or preservatives.
---
Quantity & Size
Quantity

(Per Carton)

6
Size
125g
Product Details
SKU
484478
Barcode Number
9338078004059