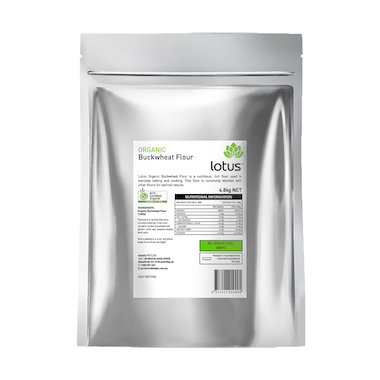 ---
Product Attributes
---
Ingredients
Organic Buckwheat Flour (100%).
---
Pricing
RRP (inc GST)
$ 33.79
GST
(GST Free)
Lotus
Buckwheat Flour Organic 4.8kg
---
Description
Lotus Organic Buckwheat Flour is a nutritious, rich flour used in everyday baking and cooking. This flour is commonly blended with other flours or used on its to make French buckwheat crepes, Russian blinis or mini pancakes or Slovenian dumplings.
---
Features
Packaged in a re-sealable oxygen barrier bag to preserve freshness.
---
Benefits
Lotus Organic Buckwheat Flour is certified organic. It is non gmo and suitable for vegetarians. Buckwheat is often mistaken as a grain, but is actually the seed of a plant related to rhubarb. Despite its name, buckwheat contains no wheat or gluten. It's a great gluten free alternative to regular flour in pastas, noodles, pancakes and baked goods.
---
Quantity & Size
Quantity

(Per Carton)

2
Size
4.8kg
Product Details
SKU
488092
Barcode Number
9317127010494