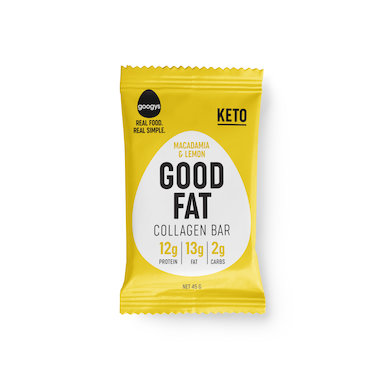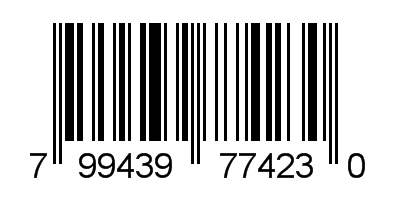 ---
Product Attributes
---
Ingredients
Just 11 ingredients: Organic Coconut Prebiotic Tapioca Fibre Collagen Peptides Macadamias (10%) Cashews Free Range Egg Whites MCT Oil Sea Salt Lemon Oil (0.1%) Monk Fruit Vitamin E
CONTAINS EGG & TREE NUTS
---
Pricing
RRP (inc GST)
$ 3.50
GST
(Attracts GST)
GOOGYS
Collagen Bar Macadamia & Lemon 45g
---
Description
Our Good Fat Collagen Bars are back and better than ever!

Low in Carbohydrates, high in Protein & Good Fats.

Our Good Fat Collagen Bars create the good food, good mood connection.

They start with egg white protein, combine functional ingredients of collagen and MCT Oil to give you a bar with the balance of macro numbers that matter, without complicated choices.

Perfect for Keto or LCHF eating plans, feel completely satiated with a tasty, easy to eat bar at any time of the day. In 4 delicious flavours for good fat and flavour!

---
Features
· Made in Australia
· No added sugar
· Gluten free
· Dairy free
· Soy free
· Peanut free
· 9 month shelf life

12g Protein | 13g Fat |2g Carbs
---
Benefits
Googys is Uniquely Trend Driven: EGGS are a well known and trusted superfood, naturally high in protein. First bar in Australia to offer this clean and natural dairy free protein. Googys boldly positions itself as the Real Food Protein Bar, is backed by a simple & natural ingredients list and free from claims.

The Real Food Movement of wholefoods, unprocessed, balanced diets and wellness lifestyles are changing the way we eat. Consumers are opting for products that are simple, fresh and contain fewer preservatives or unnatural elements.

We're a good egg – a googy egg. Full of goodness and a complete protein profile, the egg whites that power our protein bars are the natural way to boost your protein intake. You don't need a complicated ingredient list, complicating your health. Our real food protein bars get back to basics and deliver a delicious bar – where what's inside is laid bare on the front of the pack. It's real simple, just as food should be.
---
Quantity & Size
Quantity

(Per Carton)

12
Size
45g
Product Details
SKU
489029
Barcode Number
799439774230