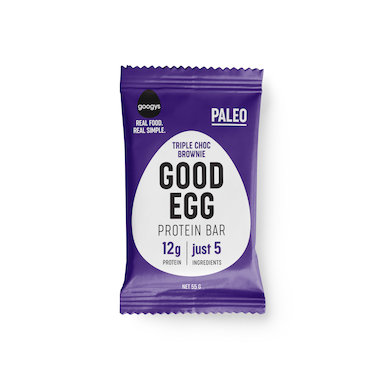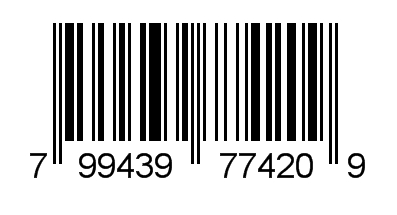 ---
Product Attributes
---
Ingredients
Dates, Free Range Egg White, Almonds, Cashews, Triple Choc (12%) (Cocoa Mass, Cocoa Powder, Cocoa Nibs). CONTAINS TREE NUTS & EGG WHITES May Contain Fragments of Date Pit or Nut Shell
---
Pricing
RRP (inc GST)
$ 3.50
GST
(Attracts GST)
GOOGYS
Protein Bar Triple Choc Brownie 55g
---
Description
Real Food Protein Bars
Fresh, locally roasted coffee beans compliment the chocolatey notes from natural cocoa. A crunchy caffeine hit perfect for breakfast on the go
, with 12g of protein in each bar.
Protein bars are a really convenient way to boost your protein intake. We all hear how important it is to consume enough protein, particularly with an active lifestyle. We find the two common situations where you reach for a protein bar are as a workout supplement and as a snack.
---
Features
· Made in Australia
· No added sugar
· Gluten free
· Dairy free
· Soy free
· Peanut free
· 9 month shelf life

12g Protein | 2.4g Fibre | 0g Added Sugar
---
Benefits
Googys is Uniquely Trend Driven: EGGS are a well known and trusted superfood, naturally high in protein. First bar in Australia to offer this clean and natural dairy free protein. Googys boldly positions itself as the Real Food Protein Bar, is backed by a simple & natural ingredients list and free from claims.

The Real Food Movement of wholefoods, unprocessed, balanced diets and wellness lifestyles are changing the way we eat. Consumers are opting for products that are simple, fresh and contain fewer preservatives or unnatural elements.

We're a good egg – a googy egg. Full of goodness and a complete protein profile, the egg whites that power our protein bars are the natural way to boost your protein intake. You don't need a complicated ingredient list, complicating your health. Our real food protein bars get back to basics and deliver a delicious bar – where what's inside is laid bare on the front of the pack. It's real simple, just as food should be.
---
Quantity & Size
Quantity

(Per Carton)

48
Size
55g
Product Details
SKU
489031
Barcode Number
799439774209