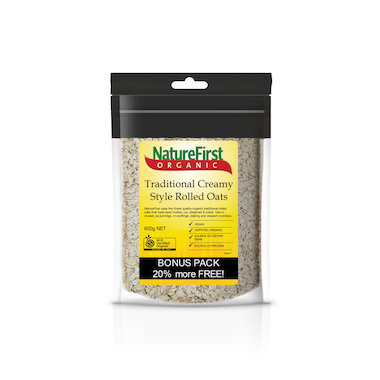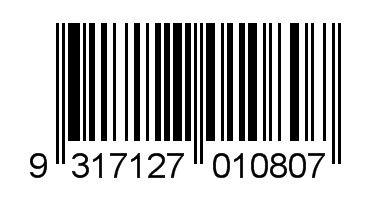 ---
Product Attributes
---
Ingredients
100% organic steam rolled oat grain
---
Pricing
RRP (inc GST)
$ 7.89
GST
(GST Free)
Nature First
Oats Rolled Traditional Creamy Style Organic (Bonus Pack) 600g
---
Description
20% MORE FREE. Bonus Pack 600g for the price of 500g! Our creamy style oats are created when whole oat groats, or grains, are steamed and then rolled into flakes. This process stabilises the healthy oils in the oats, so they stay fresh longer and cook faster. Traditional creamy style oats are a thicker grade of oat and create the most nostalgic, traditional style of porridge. They are versatile and easy to use as well as being tasty and nutritious. We use the finest quality organic oats for our traditional porridge oats.
---
Features
Nature First Organic Traditional Creamy Rolled Oats come in a 600gm re-sealable oxygen barrier bag to preserve freshness.
---
Benefits
The nutrient composition of oats is well-balanced. Nature First organic traditional creamy rolled oats are a good source of protein and dietary fibre. Oats contain beta-glucan (also known as ß-glucan), a soluble fibre that has been linked to lowering cholesterol. They also contain vitamins, minerals and antioxidant plant compounds including being a good source of manganese, phosphorus, magnesium and even contain copper, iron, zinc, folate and B vitamins. Oats are among the most nutrient-dense foods you can eat and because they are so filling a smaller serve will keep you satisfied for longer - especially when you let them absorb a lot of liquid when cooking.
---
Quantity & Size
Quantity

(Per Carton)

6
Size
600g
Product Details
SKU
7000457BP
Barcode Number
9317127010807