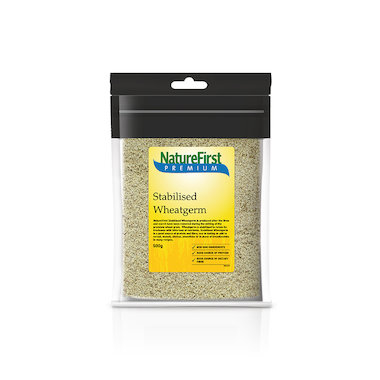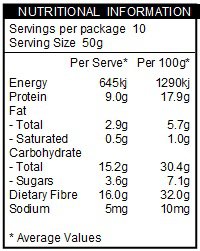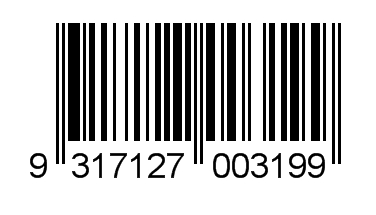 ---
Product Attributes
---
Ingredients
---
Pricing
RRP (inc GST)
$ 5.19
GST
(GST Free)
Nature First
Wheat Germ Stabilised 500g
---
Description
The edible part of the wheat kernel contains three different parts: the bran, the germ and the endosperm. When whole grains are refined the bran and germ are removed, leaving only the starchy high carb endosperm. What is the germ? It is the essential oil and nutrient rich part of the grain, the seed of life, that will grow using up the energy stored in the endosperm and protected by the bran until it sprouts. Stabilise wheat germ has simply been steamed to stabilise it so it does not oxidise and become rancid, yet retains the flavour and nutritional quality. It has a nutty and toasted taste, use as an addition to recipes to add nutrients, flavour and texture.
---
Features
Nature First Stabilised Wheat Germ is packed in Australia from local ingredients and comes in a 500gm re-sealable oxygen barrier bag to preserve freshness.
---
Benefits
Nature First stabilised wheat germ is steamed to preserve its shelf life, high in dietary fibre and a rich source of protein. Wheat germ is a superfood because it is the concentrated goodness, minus the carbs but rich in polyunsaturated fats. Two tablespoons pack just 45 calories with 1 gram of unsaturated fat and 2 grams of dietary fibre, 10% of the recommended daily value of folate, 8% of your recommended daily phosphorus, magnesium and zinc, 15% of your vitamin E and 10% of your thiamine requirements. It's also is a cholesterol sodium free.
---
Quantity & Size
Quantity

(Per Carton)

6
Size
500g
Product Details
SKU
7003199
Barcode Number
9317127003199