www.suttonssolutions.com.au
Full Catalogue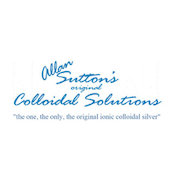 Sutton's
Colloidal Solutions is a wholly Australian owned business based in Western Australia.
As a family owned business, they manufacture and distribute a premium based range of Colloidal Silver products for practitioners as well as over the counter sales in health food shops and pharmacies.
Sutton's
team of dedicated staff work together to ensure quality and value for money are delivered to all clients.
Why we love Sutton's
The unique benefits of colloidal silver as a prevention and treatment of illness are remarkable including its ability to eradicate bacteria from the body.
You must try
The Colloidal Silver Spray Double Strength. Its handy size makes it the perfect travel companion. Besides providing a refreshing, cooling mist, it keeps the air you're breathing free from nasties, particularly airborne bacteria!