clipper-teas.com
Full Catalogue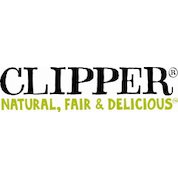 Based in the UK,
Clipper
is the only tea company to offer a range that is entirely fair-trade and organic. Using only the finest ingredients sourced from estates in Africa, India and Sri Lanka to provide an extensive range of blends that extend beyond tea, to coffee and a variety of herbal infusion teas.
Clipper
products are free from any artificial ingredients and, unlike many other tea brands, use unbleached teabags.
Click here
to see why Clipper's green tea is better than the others on the market.
Why we love Clipper
Clipper
has a clear conscious! All ingredients are ethically sourced and naturally produced only supporting Fairtrade tea producers that help to improve the welfare of its workers and their communities.
You must try
The Organic Indian Chai. The tea bags are infused with aromatic spices to deliver a richly refreshing flavour to warm your soul.