www.pureharvest.com.au
Full Catalogue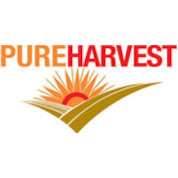 PureHarvest
is an Australian grown and owned company that specialises in the manufacture and distribution of organic and natural products. They believe that people should consume products that are free of artificial contaminants and are as close to their natural state as possible.
PureHarvest's
wide range of products covers everything from Soy, Rice, Oats and Almond Milk through to Rice and Corn Cakes, Flour, Fruit Juices, Sweeteners, Soy Sauces and more.
Why we love PureHarvest
PureHarvest
are opposed to the proliferation of Genetically Modified (GM) organisms in their food. They have a strict policy that prohibits the use of GM food at
Pureharvest
and will never use any GM food in any of their products.
You must try
The Aussie Lite Soy Milk. It has a smooth creamy taste and is naturally sweetened with the addition of natural rice syrup. It is 98.5% fat free, cholesterol free, fructose free, GMO free, gluten and lactose free and has no artificial colours, flavours or cane sugar. It is also suitable for vegans.