www.themueslicompany.com.au
Full Catalogue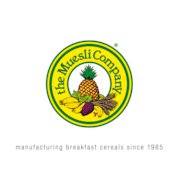 The
Muesli Company
is an Australian specialist producer of high quality breakfast cereal.
Their extensive range of quality ingredients create exceptional flavours and textures, and provide high nutritional value.
The Muesli Company
is committed to the nutritional integrity and visual appeal of their products providing healthy, wholesome choices.
Why we love Muesli Company
The Muesli Company is a small family run business with a factory right here in Melbourne.
You must try
The delicious Premium Toasted Full of Fruit Muesli. This whole grain cereal has been packed in a nut free environment and is naturally sweetened with 30% dried fruit. It contains no artificial colours or flavours and no added salt or sugar.