www.globalorganics.com.au
Full Catalogue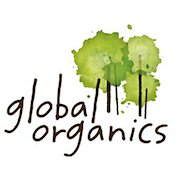 Global Organics
sources premium ingredients from around the world providing a range of organic food products high in quality and pure in flavour. Whether it be Italian grown canned tomatoes, French mustard or Canadian maple syrup, all
Global Organics
products are independently certified organic.
Global Organics
also offer an extensive range of canned pulses, lentils, chick peas and baked beans.
Why we love Global Organics
With
Global Organics
you can be sure that you're filling your shopping basket with a tasty, natural choice that is good for you. We also love that
Global Organics
is completely GMO free.
You must try
The Organic Tomato Paste in a tube. Packed full of intense flavour and a powerful anti-oxidant it's so easy to use, just squeeze it in whilst cooking. With no spoon required and less waste than a jar it's a cooking necessity!