www.kiallafoods.com.au
Full Catalogue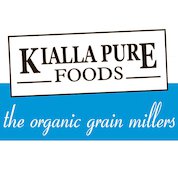 Kialla
Pure Foods is one of the largest organic cereal grain processing operations in Australia. They mill only 100% certified GMO free organic cereal grains with no cross contamination from non-organic grains. The whole meal products are made on traditional mill stones which protect nutrients and enzymes of the flour and retain the goodness of the whole grain.
Kialla
business values, beliefs and principles are:
Sustainable and fair returns to farmer suppliers
Provide clients with the widest possible range of organic cereal grains
Remain 100% committed to organic production and processing methods
Offer the Kialla team the opportunity to continually progress their skill levels
Provide consumers with products which do not cost the Earth
Why we love Kialla
Kialla
is committed to organic production and processing methods and adheres to strict procedures to avoid cross contamination.
You must try
The Organic Besan Flour. Besan (chick pea flour) is produced by de-husking and milling brown (desi) chick peas. It may be referred to as 'gram flour'.
Chick peas can help lower cholesterol and improve blood sugar levels. The high fibre content is great for digestion and managing weight loss as it will keep you full for longer.