www.herbon.com.au
Full Catalogue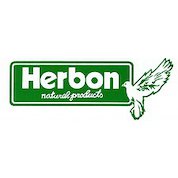 Herbon
Natural Products were created to provide purer, allergen free and environmentally friendly alternatives to harsh and irritating chemical-heavy cleaning products.
All
Herbon
products are developed in conjunction with The Allergy Association of Australia and a team of medical specialists. As a result, products are free from: Formaldehydes, Terpenes, Phenols, Chlorine, organic Mercurials, Balsams and Aluminium Complexes.
Herbon
personal and household products are allergy free, 100% biodegradable, free of petrochemicals, artificial perfumes or animal testing and are safe for septic systems.
Why we love Herbon
Herbon
cares for our planet! All products are non-toxic, non-polluting and do not use any fluorocarbons making it ozone-safe. All plastic used in packaging is completely recyclable.
You must try
Herbon
washing powder, it does not leave harmful residue on your dishes, but still leaves your dishes sparkling clean without harming the ozone layer. 100% biodegradable, this product also cares for the environment, breaking down completely into harmless compounds after 7 to 21 days.