www.lucaspapaw.com.au
Full Catalogue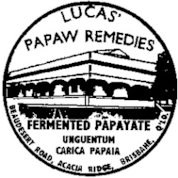 Developed by T. P. Lucas over 100 years ago.
Lucas
Papaw Ointment is made in Australia from pure Australian papaws. Loved for its moisturising and soothing properties it is a popular and effective topical treatment.
Lucas
Pawpaw is formulated with only pharmaceutical grade ingredients that have been stringently tested. It is, therefore, safe to use on infants and children.
Lucas
Papaw Ointment can be used for temporary relief of the symptoms of dermatitis and eczema.
Why we love Lucas
100 years later, Lucas Papaw Ointment is still produced in Brisbane with the same original formula, proving that this product is so good it stands the test of time.

You must try
The 15gm Lucas Papaw Ointment with lip applicator. It was voted 'favourite lip balm' in the TripAdvisor 2014 Australian Travellers' Choice Awards.